Pavement Sealcoating
Extend the life of your asphalt pavements.

Pavement Striping
Professional line & graphic striping.

Pothole Repair
Correctly repair pothole's in pavement & asphalt.

Crack Filling
Reduce water infiltration & reinforce pavement.
Hodge Sealcoating & Striping
Serving the Concord, Kannapolis, and Salisbury area, we are a family owned and operated business with a mission to make your driveway or parking lot look its absolute best and be protected for years to come. We specialize in "brushed on" sealcoating, pothole repair, and parking lot striping. Our "brushed on" technique insures maximum protection from rain, snow, ice and automotive by-products. While most companies like to spray sealcoating, our brushed on method gets the maximum amount of product in the cracks and holes which provides a more durable seal. This insures an armored like shield of protection for the whole surface and also makes an attractive entrance to your home or business.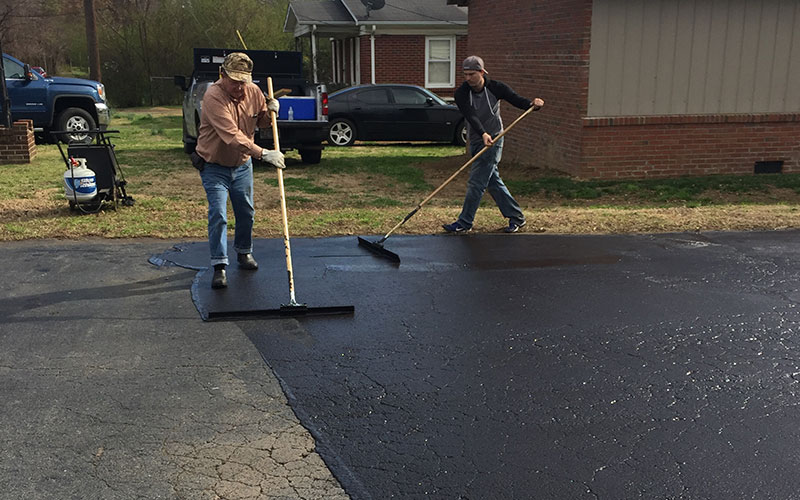 Call For a Quote:
(662) 643-3663
"Our church parking lot was in dire need of fresh sealcoating and Hodge Sealcoating did a fantastic job bringing it back to life."
Our store was in desperate need of Patchwork done in the parking lot. We got in touch with Mr. Hodge and his great company. They did awesome work! It didn't take very long. The work was done after we closed in the evenings. All around great service & great experience. We would highly recommend them!
"I had a hole right in the middle of my driveway. They did a great job repairing the hole and sealing the driveway.  I would recommend their work to my friends!"
"I can't believe the difference that makes in my driveway!"